Olivarez Condominium - LOCATION
One of the greatest parameters that define a real estate development is its location. In fact, this is a factor that determines a lot of other things including value and security among others. If you've always overlooked this factor when buying a home, then it's time you gave it the seriousness it deserves. If you have been looking for the best place to live in Paranaque City, then Olivarez Condominium is what you have been wishing to find. Recently completed and with modern features, this great property is at the heart of a vibrant city. Most importantly, it's secure and beautiful.
Investing in a wrong place or location is not only a loss but also a great mistake that might be very difficult to correct. Location will impact your family's safety, happiness, comfort and every day activities. If you choose a place that doesn't have amenities that make living better, then you'll have yourself to blame. The best way to test the relevance of a place for settlement especially on a long term basis is to prepare a checklist. Make sure that it includes all the very vital factors that make a place suitable and comfortable for living. If it's your first time, then here are the most important points to include in your location checklist:
 
Economic benefits
Proximity to public transport
Crime records
Available amenities
Schools for your kids
Long term value
Quality of the area
Popularity of the area

Olivarez Condominium meets this criterion and all these all available. If you want to enjoy economic benefits, reliable transport, the best schools around, security and quality of the area among all other factors then don't go far. You've found the best location. Besides that, the whole of Paranaque City is popular and safe for living. In fact, everyone is dreaming of one day owning a property in this awesome city that's full of life and beauty. The community environment here will give you the comfort and inspiration you need to carry out your daily activities. You ought to choose the best location if you want to enjoy peace of mind.  Olivarez Condominium gives you a golden chance to enjoy urban lifestyle and achieve your goals. It is strategically located in a setting that gives you easy access to:
Modern Hospitals
International Airport
Modern Malls
Popular Restaurants
Prestigious schools
World Class Shops

You have no reason not to invest in this medium high-rise condominium that guarantees you the lifestyle you want. Remember that it's not always obvious to find a property in the heart of a great city. What makes it even better than you've ever thought is the fact that it's easy to acquire a property now. If you have been following the trends, then you'll agree with us that as time passes, it will be a little bit hard to get your dream condo. Prices are constantly rising, and you might find it difficult later to get the property you want. Therefore, act now when you can afford and get the best home in a perfect location. Olivarez Condominium is your dream location.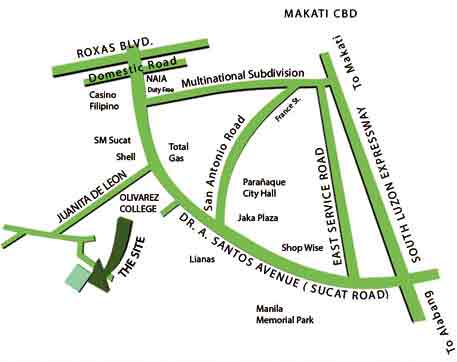 Olivarez Condominium is first-of-its kind urban community in the heart of Parañaque City. Located 30 minutes away from Makatu CBD and Bonifacio Global City, it is strategically positioned very close to SM Sucat, restaurants, shops, prestigious schools, modern hospitals, domestics and international airports.
VIA SUCAT EXIT
From Makati take the South Super Highway via Magallanes Interchange. From Sucat Exit turn right to Dr. A. Santos Avenue. Several landmarks such as Shopwise, Jaka Plaza can be seen on the right side, Liana's Supermarket and Olivarez General Hospital on the left side. Just 500 meters from Olivarez General Hospital turn left to Juanita de Leon St.

VIA NINOY AQUINO INTERNATIONAL AIRPORT
From NAIA take Ninoy Aquino Avenue going straight to Sucat Road. Landmarks are Casino Filipino, Duty Free Shop, Dampa Restaurant and SM Sucat. After passing Shell Gas Station turn right at Juanita de Leon St. just across Total Gas Station.

VIA BICUTAN
From Makati take the South Super Highway via Magallanes Interchange. At the Bicutan exit turn right passing SM Bicutan. Upon reaching France St. turn left. Then take the San Antonio Road and turn right at Sucat Road passing Jaka Plaza and Liana's Supermarket. Upon reaching Total Gas Station turn left.

Refining the easy, urban lifestyle... These medium high-rise condominiums are perfect for young executive or small families...